Fandom.
Harry Potter
Subject.
The Sisters Black
Title.
Of Cutthroat Ilk
Notes.
JUST WHEN YOU THOUGHT I WAS DONE WITH THESE LADIES (as if) (never ever). This mix has been in the making for what must be something like three years now. I was going to write something of a companion fic to go along with it, and I do have bits and pieces of my efforts floating around, but these days everything I write looks and sounds to me like something a preschooler might've scribbled out on wide-ruled paper with a fucking crayon, so. No fic for now, but in a nutshell: this is the story of Bellatrix, wild and proud to a fault, who chose to dance and drown in depths the rest of her family dared only dabble in; of Narcissa, masked (later armored) in icy hauteur, who understood the family words better than anyone - because
toujours
is not achieved without subtle endurance, without the will to
remain
; and of Andromeda, who questioned and challenged, and lost a great deal for it.
BLAH BLAH BLAH I don't want to be a giant windbag about this, so I'll wrap this up by saying this is allllllll for
Lainey
, who, despite her near-constant insistence to the contrary, is in FACT the actual best. Don't tell her I told you this, but she's kind of my muse, shhh. She's the reason I finally got my act together and finished this monster. I love her dearly for all she does and all she creates
and all the praise she showers me with whut
.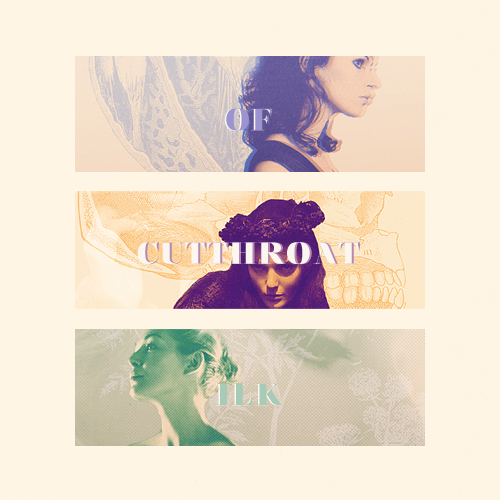 ( prelude )
BLACK SNOW
IRON ORCHESTRA







one. hello night zoë keating


two. little sister (jennifer 8 mix) siouxsie and the banshees
little sister, now you're gone
let's just say it's a mercy kill


three. venus in furs devotchka
shiny, shiny, shiny boots of leather
shiny leather in the dark
whiplash girlchild, your servant
don't forsake him
strike, dear mistress


four. icct hedral aphex twin


five. warpaint (rough trade session) warpaint
the war you fight is underneath
the water getting deeper
the wall, the wall, the falling wall
the wall is busting open

in like a dull knife pulls out all the stops
i fall out like time running out
willing and i do give offering to you









one. rose hybride de thé emilie simon
*mon oeillet fixé à votre iris (my eye is fixed to your iris)
comme narcisse je contemple (like narcissus i contemplate)
dans ces miroirs entre vos tempes (in this mirror between your temples)
le reflet sombre de mes vices (the dark reflection of my vices)

translation from a lyrics wiki, dk how accurate it is.


two. bells for her (mjy mix) tori amos
so they went years and years
like sisters, blanket girls
always there through that and this
there's nothing we cannot ever fix, i said

can't stop what's coming
can't stop what is on its way
bells and footfalls and soldiers and dolls


three. black silk emily jane white
unveiling the child within before the grace of your sin
and lucifer has made a bed of wicked words to rest themselves in
go to sleep and we'll all give in
black silk, oh, wrapped around your neck
and a cutthroat ilk, oh, behind your back


four. the last bird zoë keating


five. vanities charlotte gainsbourg
you could have it all
you could pawn it off
you could learn to crawl
where you used to walk
and i, i'm only burning vanities









one. black tin box (feat. lykke li) miike snow
your sisters and you
running through the orange light of the after-day
black sheep, black sheep in the aftershocks
thought you could survive in the black tin box


two. billie holiday (sei a edit) warpaint
*as i walk this line
i am bound by the other side
and it's for my heart that i'll live

* lyrics obscured because i went with an edit
that did things for me tonally~, but that's the
sentiment behind the song, generally.


three. st. francis sarah slean
sometimes, i belong here
but it's funny how leaving
turns the emptiness up
the hole you never had before

oh, i laugh in my hands
a kiss from that man, like a melody
my pride still standing tall
but lookin' back, i wasn't brave at all
i wasn't brave at all
was i?


four. flaming home mount eerie
the house that i walk home to is in flames in this wind


five. on blue fat segal





( aftermath )
EPILOGUE SON LUX




.zip
(copy link address, change hxxp to http, you know the drill)